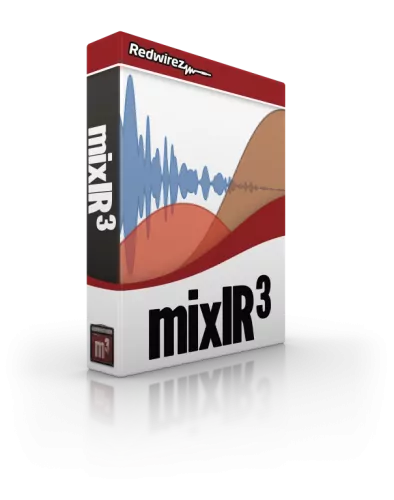 High-Performance Zero-Latency Convolutional Pulse Mixer (Pulse Loader)
---
Efficient, drag-and-drop IR loader for Redwirez and 3rd-party IRs
Load Redwirez IR Modules to visually navigate and select IRs
Run one IR or up to 64 with the same unmatched performance
Zero latency for delay-free live performance
Export your IR mix to WAV or AIFF for use in an external device
No dongles! No authorization or activation scheme
Note: mixIR³ will load 3rd-party or previous generation Redwirez IRs. But, it will not display a 3D cabinet interface for 3rd-party or previous generation IRs. MixIR³ modules, included with all current BIGbox libraries, are required for a 3D cabinet interface.
Standalone App Features
Standalone Mac and Windows app for mixing IRs without a DAW
Play guitar tracks in a loop and audition IRs
Not designed for live performance (no audio inputs)
Export your IR mix to WAV or AIFF for use in an external device
Sculpt your sound like never before with the new mixIR³ impulse response (IR) loader. The mixIR³ is a convolution reverb plug-in and a stand-alone Mac or Windows app.
Easily mix mics, cabinets, reverb and more with unrivaled performance. The mixIR³ allows you to stack and blend a virtually unlimited number of IRs. And with our N-series and A-series mixIR³ modules you can now add classic Neve and API EQ to your IR stack.
You can even export your IR mix as a WAV or AIFF file for use in another plug-in, ampsim or hardware IR loader.
All current BIGbox libraries include both mixIR³ modules AND raw IRs. Loading up an IR module gives you an easy point-and-click way to choose a speaker, mic, position and distance.
1.9.1 (Oct 03, 2022)
Fix to mono exports when in mono mode.
1.9.0 (Sep 25, 2022)
VST plugin is now VST3
Mac version is now universal binary supporting both Intel and Apple Silicon natively
Still 1.8.2 (Nov 8, 2021)
Fixed level discrepancies in N and A series modules with some EQ settings.
1.8.2 (Apr 17, 2021)
Fixed issue loading presets from versions prior to 1.5.
1.8.1 (Apr 12, 2021)
Fixed issue with Stereo Mode switch in some DAWs. Output of the mixIR3 would get summed to mono.
1.8 (Apr 9, 2021)
Added Extended IR modules for continuous selection of mic position and distance. Extended modules are named with a "-Ext" extension. They allow you to easily pick "in-between" positions. Extended modules only work with mixIR³ 1.8 and later.
Added L/R to Stereo (Stereo Mode) switch to Options for plugin and standalone app. Allows you to send a single input to both channels. Useful when running stereo IRs with a mono input.
Fixed issue with gain knob on the 4.8kHz section of the N73 EQ.
1.7.1 (Jan 12, 2021)
Fix for Helix failing to read exported files from MacOS.
1.7.0 (Dec 30, 2020)
Workaround for Suhr IR Loader failing to read exported files from MacOS.
1.6.0 (Dec 16, 2020)
MixIR3 now provides predelay, measured in samples, for all IR blocks.
1.5.0 (Nov 25, 2020)
MixIR3 now remembers the last sub directory you used in each tab. New instances of the plug-in will open to that directory as well.
Presets now save in the current directory of the Presets tab, instead of the root.
Mouse over on IR Blocks that correspond to audio files now displays the path to the source file relative to the "IRs" search path set in the Option screen under Global Settings
Fixed sandboxed directories in Garageband
BIGBoxX guitar cabinets have been changed to use 200ms IRs and now support new mixing options; see description above the download section. There are also many more download options.
New Z modules for each cabinet that simulate the impedance, bass, treble, and resonance of each cabinet.
1.4.5 (Aug 29, 2020)
Support for FL Studio and Focusrite Scarlett devices.
Added IR navigation arrows to IR blocks for selecting next/previous IR in the folder.
1.4.0 (Jun 25, 2020)
Better support for devices that do not use hardware buffer sizes like 32, 64, 128, 256, 512 and 1024.
New mono support for better performance.
New output gain boost options; defaults to +6dB.
Preset, track template and project save fixes to address Pro Tools and SONAR bugs.
Export parameters are no longer attached to presets.
Reorganized Options screen with tabs.
1.3.0 (Feb 28, 2020)
Fixed a bug that caused dropouts and "static" when Reaper was looping in some configurations
Added TC30 mic to Bass IR modules
Added toggles to control whether newly added blocks get normalized by default
1.2.1 (Jan 24, 2020)
Workflow change. Now, when you drop a raw IR on top of an existing IR. The new IR retains all the mix settings of the IR it just replaced.
1.2.0 (Jan 16, 2020)
Added Pro Tools AAX support.
1.1.1 (Jan 4, 2020)
Fixed performance issues with some DAWs and uncommon configurations.
1.1.0 (Dec 27, 2019)
Adopted the mixIR2 mix engine in mixIR³. If you are using serial blocks (EQ, reverb) in the bottom slots on the IR stack then your mixes will not change. If you are using serial blocks in the top or middle of the IR stack then your mix will change. Please review your mix.
1.0.2 (Dec 21, 2019)
Fixed levels in the A56 A-Series EQ module.
performance and stability updates.
1.0.1 (Dec 13, 2019)
Tweaked the sliders in the mixIR³ to operate more smoothly.
Fixed an issue with presets where IR blocks might swap positions.
Exported IRs now normalized to -0.3dBFS.
All products now have a simple ZIP-based 'no installer' option.
BIGbox ✘ installers have been split into smaller IR packs for each sample rate.
BIGbox ✘ presets for IR Modules are available as a separate download. The IR Module pack still includes the presets.
1.0.0 (Nov 25, 2019)
Initial release.