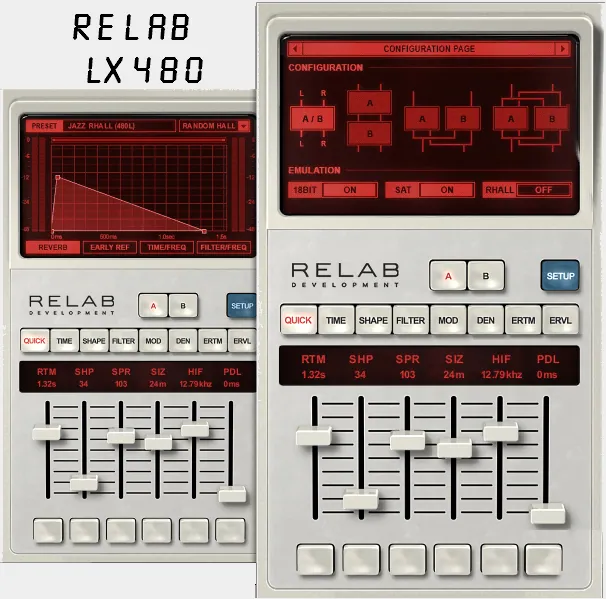 Ready for the legendary reverb sound?
For decades, the 480 has been the standard by which all other reverb processors are measured.
Ask any pro and you will soon find out that the 480 is considered to be one of the best reverbs ever made.
Nothing compares to the distinctive, smooth, rich sound of the 480.
Improved preset management– The new preset manager for the Relab LX480 allows you to manage your reverb presets with an attractive and intuitive interface. Presets can be sorted and stored in logical groups for quick and intuitive loading and saving of presets.
Instantly load presets from the original 480L, or start with one of our signature presets from world-class mix engineers, then make minor or major adjustments to those settings to suit your mix's needs. Of course, you can also save your favorite reverb sounds for quick recall in future mixes.
Recreation Algorithm
 –
The LX480 completely recreates the reverb algorithms from the Lexicon 480L*:
Random Hall.
Hall.
Room / Plate.
Atmosphere.
Double delays.
Exclusive features
 –
Additional exclusive features and functions that are not in the original:
Continuous control.
Flexible and optional filter structures for better sound shaping.
More ER delay lines.
stereo manipulation.
Support 88.2 kHz and 96 kHz.
Improved Originals
 –
Improved algorithms with higher density than any other reverb plugin (and the original)
Fast control and customizable display.
Dual Engine Configuration
 –
You can choose from 4 routing configurations with different algorithms in each engine for extremely wide reverbs:
Single.
Cascade.
Mono Split.
Stereo split.