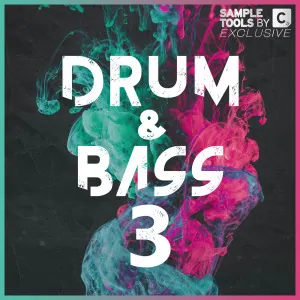 Sample Tools by Cr2 are proudly back with another DnB kit with Drum & Bass 3. This one the kit gives you more of what you need to create heavy DnB bangers.
INTRODUCING: DRUM & BASS 3
With its detailed sound design and drum programming, drum and bass is considered one of the most difficult genres to create. It requires meticulous attention to detail and extensive manufacturing knowledge… Inspired by the sounds of Dimension, Noisia, June Miller, Netsky and many more; this pack provides you with a selection of handmade professional sound samples to make DnB creation quick and easy. Struggling to make your tracks sound right? Is this edge missing? This set is for you!
In this thunderous sample pack, you'll find ferocious bass hits, powerful bass loops, cool drum samples, and drum loops designed specifically to shake up any dance floor. Also included are bending sound effects to help create tension in your productions, epic chord hits, and a selection of carefully crafted growling synth loops. The 3 mind-blowing songstart kits in this kit are designed to give you an in-depth look at DnB production as well as give your next production a head start.
Finally, in addition to everything already mentioned, all melodic parts are available as MIDI files for you to experiment with, and this package provides you with 21 professionally designed Serum preset sets. These customizable presets feature some dirty basses as well as sizzling leads, giving you access to the signature dirty DnB sound.
All samples in this package are 100% royalty-free.
We are Sample Tools by Cr2 and this is… Drum & Bass 3!
Total File Size: 353mb
Audio Files: 285
MIDI Files: 34
10 x Bass Hits
10 x Bass Loops
84 x Drum Hits
10 x Kicks
10 x Snares
10 x Claps
20 x Percs
14 x Hats
10 x Rides
10 x Crashes
62 x Drum Loops
14 x FX
3 x Songstarters (85 audio + 14 MIDI)
9 x Synth Hits
11 x Synth Loops
20 x Midi
21 x Serum Presets