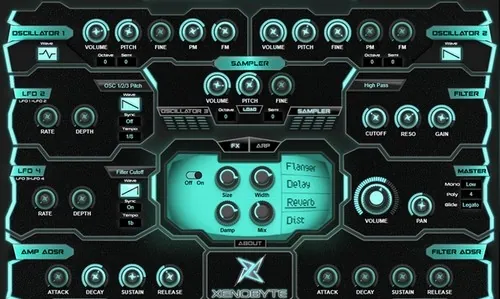 Introducing XENOBYTE! Brand new VST3 analog hybrid synthesizer developed by Sick Noise instruments!
Oscillators
 :
Xenobyte has 3 oscillators with standard waveforms: sine, sawtooth, ramp, momentum, triangle, as well as white noise and pink noise. You can control the volume, octave, semitone, pitch, fine tune, phase mode, and frequency mode of each of the three oscillators, which share the same controls and waveforms.
Sampler
 :
This synthesizer is hybrid in that it has an additional sound source in the form of a Xenobyte sampler. You can use the sampler alone or in combination with the oscillators. Open any audio sample, load it into the sampler and morph it with oscillators to get even more powerful sound! The sampler has controls for pitch, volume, fine tuning, as well as octaves and semitones.
Low Frequency Oscillators
 :
Xenobyte has 4 LFOs with which you can modulate just about anything on the panel. LFO 1 can modulate the LFO frequency to other LFOs. It has 5 wave oscillators such as Sine, Saw, Ramp, Triangle and Pulse. You can control the speed and depth of the LFO.
Filter
 :
The filter is very simple, it has low and high frequencies, a passband and a rejection band. In the filter, you can control cutoff, resonance, and gain.
Effects
 :
The effects screen has 4 main effects: flanger, delay, reverb and distortion.
ADSR Envelopes
 :
Xenobyte has 2 ADSR envelopes for filter and amplitude. From the main panel, you can control volume and pan, as well as mono, polyphony, and glide.
Presets
 :
Xenobyte has 75+ factory presets. The presets are ready for your production.
Open XenoByte, press MENU – select "Import Bank".
A window will open, go to this location:
C:\Users\Your username\Documents\Ivan Tasevski\XenoByte Presets Bank\
and select: file 
XenoByte preset bank.xmlbank