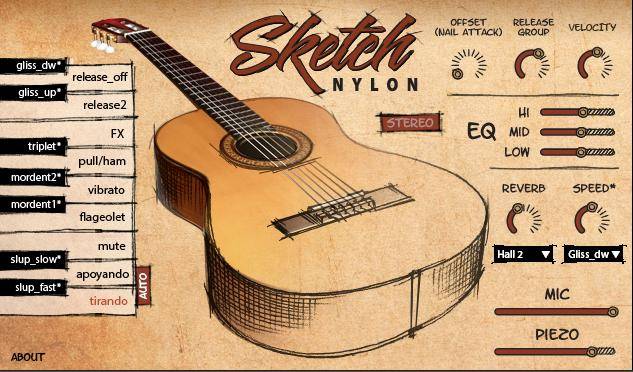 With this instrument, we begin a series of inexpensive and high-quality instruments for the Kontakt 6 sampler.
For recording, we used Takamine guitars, high-quality microphones and a piezo pickup system. Mic and piezo levels can be adjusted after the fact for maximum sonic flexibility.
Sketch Nylon comes with a MIDI package.
Midi Pack includes 5 styles with variations (samba, bossa nova, bayao, choro, frevo), total 41 types of accompaniment (drums not included). 4 types of guitar chords (Maj, Min, 7, mb5) in each style. 1968 chords in total.
Mic and piezo levels are adjustable after the fact for maximum sonic flexibility.
14 joints
2 loops per note
5 layers of velocity on tirando and apoyando, 4 layers of velocity on mute and flag, 3 layers of velocity on vibrato Offset
controls (CC110) on main patches (tirando, apoyando, mute, flageolet and vibrato)
7 patches (fast slide up, slow slide, mordent 1, mordent 2, triplet, glide up, glide down)
Percussion patterns (Articulation FX) and additional percussion patterns (green area on the keyboard)
EQ controls on all patches
12 types of user convolutional reverb
Sampling Rate: 24-bit 44kHz
Last note repeat key
Library size: 2.3 GB (1 GB in RAM)
Requires full version of Native Instruments Kontakt 6.1.1 (or later). The free Kontakt Player does NOT support this library.
---
Please buy the product if possible to support the manufacturer
 .