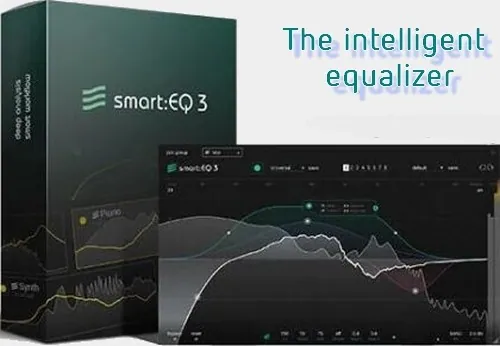 smart:EQ 3 improves the detail, clarity and transparency of individual tracks and arrangements for up to six channels.
Set the spectral balance in your sound in a few seconds.
⁍ Intelligent cross-channel processing.
⁍ AI filter for automatic tonal imbalance correction.
⁍ NEW: dynamic adaptation, minimum phase mode, filter widgets.
The world's first intelligent multi-track equalizer
 :
High-resolution precision at the touch of a button.
Give your creation a sonic balance.
Achieve spectral balance with smart:EQ 3 in seconds – whether you're working on a single track or a mix. The AI-powered EQ removes unpleasant resonances and unwanted cutouts, leaving you with a well-balanced sound and therefore the ideal basis for further creative steps.
Drag and Drop Spectral Blending
 :
Make your mix incredibly smooth.
Intelligent multi-channel processing helps you create transparent arrangements of up to six channels, with each track playing exactly the part you want.
By analyzing the spectral information of all the channels you have added to your group, the algorithms ensure that each track gets its assigned place in your mix. You just need to define the sound hierarchy according to your vision. It is so simple.
Newly developed profiles, shared smart:filter, …
Combine your brain power with smart:EQ 3
 :
Adapt the influence of A.I. enhanced smart:EQ 3 processing to your liking: in the EQ view you can select the frequency bands to be affected, change the shape of the green weighting curve of the calculated smart:filter and define the duration of the learning process. In the group view, you can control the level of influence of intelligent multi-channel processing on your tracks. You can have it all: Enjoy the incredible power of intelligent algorithms and stay in control.
Filter widgets, drag-and-drop spectral mixing, multi-channel analyzer.
Stay tuned with smart:EQ 3
 :
We've designed smart:EQ 3's intuitive, stylish interface and user-centric features to make every move count: Efficiently customize your audio using filter widgets, create an audio hierarchy by dragging tracks in the group view, and choose which tracks in your mix you want to track simultaneously using a complex analyzer. And much more – explore everything smart:EQ 3 has to offer.
1.2.0
 :
Added string profiles: violin, viola, cello and double bass.
Added built-in support for Apple Silicon.
Removed PACE iLok License Manager dependency for non-iLok licenses.
1.1.3
 :
Updated macOS signing certificate.
1.1.2
 :
Fixed a rendering issue affecting some mono instances.
1.1.1
 :
Fixed various issues related to the NVIDIA OpenGL driver for Windows (496.13, Oct 2021)
1.1.0
 :
Improved the accuracy of the Universal and Bass profiles.
various stability and performance improvements.