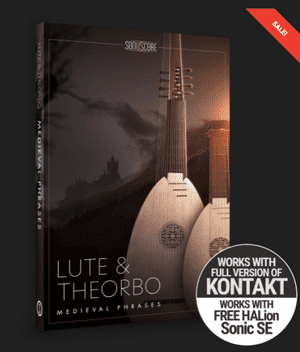 SOUNDS OF KNIGHTS AND TAVERNS
Our first library of phrases dedicated to plucked instruments, MEDIEVAL PHRASES LUTE & THEORBO will take you to a world of classical imagination filled with bards and taverns, knights errant, itinerant robber barons and bandits.
During the Middle Ages and the Renaissance, court bards and taverns constantly needed new ways to inspire their audiences. People looked to the ancients for inspiration, whether in science, medicine or music. The ancient Greeks turned to the divine in their epic recitations, accompanied by the lyre and cithara. It is only natural that during the late Middle Ages, when everything ancient was again in vogue, the lute and the theorbo took center stage.
Our MEDIEVAL LUTE AND THEORBO PHRASES bring back the spirit of medieval castles and the inspiring spirit of the Renaissance, transporting you to village pubs and medieval markets, from Homeric epics to the Medici court. The lute's light, heavenly plucking is richly accentuated by the theorbo's deep voice, perfect for early pieces, experimental music or ambient dwellings.
ATTILA WOLGI – THE ARTIST OF MEDIEVAL PHRASES BY LUTA AND THEORBO
Attila Volgi was born in 1974. From an early age he studied cello, piano and guitar. From this youthful love of music, he added classical guitar, organ, and jazz guitar. In 1997 he graduated with honors from the Franz-Franzens School of Music.
In 2007, he began his lute exploration under the influence and guidance of the respected lutenist Istvan Gyori. Attila currently teaches at the Béla Bartók School of Music in Szombathely, Hungary, where he is also a member of the early music ensemble Capella Savaria. He has appeared in numerous concerts, recordings, including the Age of Empires IV and The Elder Scrolls Online soundtracks, and theater productions where he plays the guitar, lantone, lute and other plucked instruments.
Attila plays his lute and theorbo with incomparable passion, taking every listener away and returning him to the old taverns with their bards and brawls.
Sonuscore Medieval Phrases Lute & Theorbo KONTAKT ScreenshotCLEAN AND INTUITIVE INTERFACE
Based on the same spirit as the Lyrical and Ethnic Phrases series, with our MEDIEVAL PHRASES LUTE & THEORBO we bring you a whole new direction: Medieval. Keeping the same spirit as our lyrical series, we have created a much more medieval set of phrases. The phrases are set in natural minor and Dorian frets, which were usual for that time.
The interface gives you a choice of phrases, and the FX page offers you full control over the EQ. Use the added delay to draw out unexpected complexities and the reverb to give you the space you need to fill the feasting halls of knights and ladies.
RECORDED PHRASES
All phrases are recorded in the darker tones of the natural minor and Dorian scales, including plucks (with 3 wraparounds), tremolo, various trills – most recorded with 2 wraparounds. They are meant to inspire the rhythm and movement of the Middle Ages. The zest and dynamic focus on rhythm means they can fit into more projects than mere lyrical phrases.
MEDIEVAL LUTE AND THEORBO PHRASES
– 10 lute themes and 5 theorbo themes
– Synchronizes with DAW tempo
– Fully playable rhythmic phrases
– Lute can be played in arps and chords
– can also be played freely as single instruments
FREE PLAYABLE INSTRUMENTS
To link phrases further and more individually or play your own melodies, you can also freely play the lute and theorbe as separate instruments. Create stunning and authentic melodies in the blink of an eye combined with emotional live phrases.
The FX
MEDIEVAL PHRASES LUTE & THEORBO PAGE includes a range of state-of-the-art tools including a 4-band EQ, delay and reverb. Get instant and easy access to the most important features to perfect your sound.