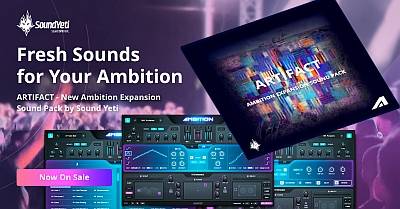 Extension for Sound Yeti library – Ambition v1.1 (KONTAKT)
It's time to get inspired. The fifth installment in the Ambition Expansion Sound Pack series is now available and will surely be a favorite addition for Ambition fans. Artifact expands Ambition's ability to creatively process samples of acoustic and organic sources, creating a rich, naturally gritty and beautiful collection of sounds.
Combined with sophisticated effects processing modules and Ambition's patented performance controls, you're sure to find limitless creative possibilities with this expansion pack.
The motivating theme for Artifact is a study of the distortion of organic raw materials and acoustic instruments. Long cello recordings cut through granular synthesis, field recordings of birds in the forest, then processed with modular synthesizers, external audio equipment and more. Another example: the hiss and crackles of the tape are located next to the crackle of a campfire. And what about the texture of ancient heavy stones, re-synthesized with the latest digital modular synthesizers. As far as we understand, we were not shy about handling sounds in Artifact. 🙂
For those familiar with our series, Artifact starts where Relic left off. It's an organic and natural extension of the character and vibe-infused sound set for the almighty Ambition engine.
Artifact is a unique and eclectic collection of sounds that are both down-to-earth and emotional. With 70 ready-to-use snapshots, you can easily capture subtle harmonic elements, bold textures and leading voices. Sounds are created from 40 sample sources, including 15 different acoustic instruments and 10 organic / natural sound sources. Everything is mixed and distorted to create an extraordinary listening experience in Ambition.
Specifications
60 Original sample sources
70 Snapshots
600 High-quality chromatic samples
1.10 GB of custom samples
10 Evolving
13 Hybrid Keys
29 Pads
9 Pulses & Motion
9 Textures