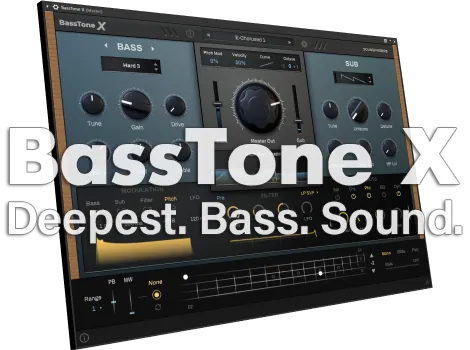 Discover the power of bass A hybrid plug-in that combines a beautifully sampled bass guitar and a versatile synthesizer.
Create dynamic bass sounds with a variety of tones, synth waves, filters and an extensive rack of effects.
For musicians of all genres, BassTone X is the key to unleashing the potential of bass sound.
Unleash limitless creativity with the BassTone X core, comprised of over 600 accurate bass guitar samples and 16 unique bass amp models.
Switch to a second synth module for clean synth bass and customize your sound with the sub synth module with 16 customizable waves.
Enjoy the purest sound of your mix with our innovative split-band filter that boosts the low frequencies while retaining the highs.
While BassTone X offers many sound design possibilities, it remains incredibly intuitive and user-friendly.
The interface has been carefully designed to give you easy access to the main controls, making it effortless to customize and shape your sound.
Whether you're an experienced sound designer or a beginner, BassTone X offers an easy workflow, allowing you to focus on your creativity and ideas, rather than getting bogged down by complex menus.
From drive and chorus to phaser, EQ and compressor, you have everything you need to enhance your bass sound.
Get the most out of our special multi-band effect. Determine the frequency cutoff values, loudness levels, and saturation levels for each band.
Over 600 bass guitar samples
3 velocity layers and 8 round robins
16 original Bass Amp models
16 custom-built Sub waveforms
Over 70 presets to get you started