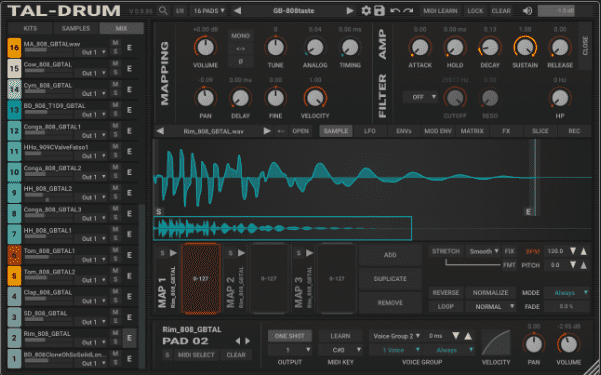 TAL-Drum is an easy-to-use sampler for drums, short samples and loops, inspired by drum samplers of the 80s, with a modern workflow.
Add. Information :
-Ultra-fast workflow with drag and drop samples, pads and mapping.
-32 pads in 4 layers.
-Up to 16 stereo outputs.
-One LFO, spline envelope, AHDSR amplifier and two AHDSR modulations per display.
-Various time-stretch modes (high quality Crisp or Smooth, Vintage AK4I Cycle mode)
-Real-time LO-FI effects.
-Slice editor.
-Record audio and create samples right in the plugin.
-Over 20 Factory kits and over 600 samples from Goldbaby, emptyvessel, Solidtrax and Saif Sameer.
-The most common audio formats are supported (wav, aif, flac, ogg, mp3…).
-Super lightweight. The installer only copies the plug-in to the plug-in location.