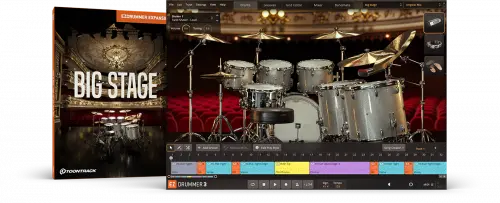 The Big Stage EZX is an expansion for the EZdrummer 3, filmed in perhaps the most unique and iconic setting in Toontrack EZX history: an empty stage in front of a massive mid-1800s theater hall. Masterfully recorded by engineer/producer/mixer Jakob Herrmann and designed to deliver the widest sound palette possible, it features four contrast sets as well as surround microphones positioned at the far ends of the stage, on balconies and other key locations in the breathtaking theatre.
Whether you're looking to write a massive rock track, an ambient pop song, or just looking for a massive collection of genre-neutral drums with an audiovisual scope that goes beyond convention, this EZX is your next step.
Ready to write some songs? The scene is yours.
Additional Information
FEATURES
– Recorded at the Stora Teatern, Gothenburg's classic theater built in 1859.
– Designed by Jakob Herrmann at Top Floor Studios in Gothenburg, Sweden.
– Four complete sets, selected for maximum versatility
– A set of live toms, as well as several additional kicks, snare drums and cymbals.
– Sounds perfect for everything from thunderous rock and metal to contemporary ambient pop, soul and more.
– Has multiple atmospheric mics (far sides of the stage, ceiling, balcony, etc.)
– Comes with ready-made presets for a wide range of mic setup options and styles.
– Includes a collection of unique MIDI grooves and fills specifically designed for kits.