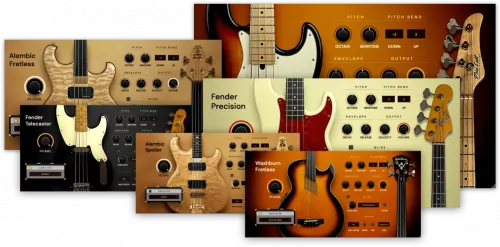 With six carefully sampled basses from his own collection, multi-instrumentalist Dan combines his sought-after tone and playing style with a deep knowledge of sample-based instruments. The result is a diverse, record-ready collection of basses that embody his signature sound.
Over 100 presets
If you need quick access to a particular style, tone, or effect, Factory Presets are here to help! Dan Dean Essential Bass comes with over 100 carefully crafted presets offering everything from subtle chorus to rough distortion.
Ultrarealism
Several performance articulations have been added to further enhance realism. Harmonics can be triggered for each note using the modulation wheel, while other articulations can be triggered by key switches to maximize playable range. This includes selecting slides in various ranges.
1. Open the "Dan Dean Essential Bass" plugin.
2. Click the setup button (gear icon)
3. Click the "Install Content Pack" button.
4. Open each file with the "*.content" extension in turn. Wait a bit…..