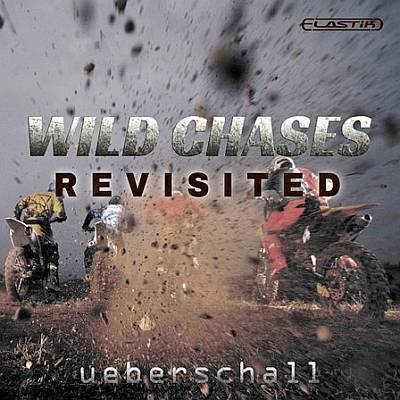 Hard guitar sounds.
Wild Chases Revisited takes the electronics-based drama kits from the original Wild Chases release and reimagines them as powerful, hard rock guitar.
With overdriven guitars, dynamic bass and powerful acoustic drums, Wild Chases Revisited can provide the perfect blend of dark mood, tension and sinister atmosphere.
Wild Chases Revisited, containing over 4GB of data with nearly 1200 loops organized into 10 massive sets, corresponding to 10 sets from the original Wild Chases. Each set includes two to four separate music sections, as well as separate introductory and concluding sections. This format makes it easy to create a complete musical arrangement with many variations. The starting tempo ranges from 130 to 150 beats per minute to maintain the feeling of rushing. And with Elastik's high-quality tempo control tools, you can easily match the tempo of the kits to your specific project needs.
In each kit, each section contains several guitar parts and a bass part. Live amp and DI (line level) recordings are available for both guitar and bass, which means you have a great studio recording for instant results or the ability to apply your own distortion and effects. Additional guitar loops and sound effects loops are included in many of the kit sections for more variety. Acoustic drum parts are provided both as a pre-mixed loop (for ease of use) and as a full set of multitrack loops. The latter include a bass drum with three different microphone positions, a snare drum with top and bottom mics, hi-hat, tom, overheads, and three different room mics. This way you have complete control over the drum mix.
The two versions of Wild Chases make up the perfect combination. Owners of both libraries can easily mix the electronics of the original release and the rock version of Revisted. Like the original release, Wild Chases Revisited is a great choice for film or TV composers looking to create a sense of drama, tension and suspense. It's also perfect for composers who like dark and dramatic rock.
Wild Chases Revisited is optimized for the Elastik loop player. Zplane's élastique pro algorithm allows time stretching and pitch bend with ease and highest quality. The new ReTune algorithm keeps keys and scales in sync across all installed libraries. Features such as resampling, reverse and multimode filter offer great potential for creative sound design.