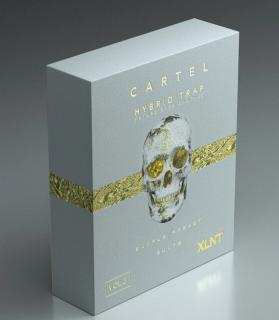 The legendary Cartel series is our most requested sample/preset set in our entire catalog.
Cartel's samples and presets have been used by some of the biggest names in the industry and have quickly become one of, if not the most successful title we've released in XLNTSOUND history.
Producers from all over the world have told us how important and influential Cartel has been to their success, and it goes without saying that this is a very special series for us.
We studied the best producers and sound engineers in the industry, which gave us the opportunity to share with you the latest sounds and secrets that only top-level producers know. We've spent countless hours developing and sculpting never-before-seen presets and sounds to become the pack we've always dreamed of.
The Cartel Collection is the end of everything for producers looking for the hottest and newest sounds, and now is your chance to access ALL of these next level sounds.
TOTAL SAMPLES – 756
DRUMS-305
26-808's
64-Kicks
30 – Claps
96-Snares
10-Toms
60 – Percussion
09 – Shakers / Tambourines
10-Snaps
28-Fills
CYMBALS-43
10 – Open Hi-Hats
32 – Closed Hi-Hats
12 – Rides
18-Crashes
LOOPS – 150
10 – Break Loops
32 – Build Loops
08 – Drop Loops
38 – Full Loops
12-Hat Loops
12 – Melody Loops
14 – Perc Loops
15 – Top Loops
08 – Vocal Chop Loops
FX-128
10 – Ambient Fillers
15 – DownSweeps
15 – Impacts
21 – Misc FX
21 – Risers
40 – Sweeps
06 – Transition FX
ONE SHOTS – 130
99 – Bass One Shots
16 – Brass One Shots
14 – Sexy Spanish Guitar
VOCALS-
40-Chants
37-Phrases
SERUM PRESETS – (150 TOTAL)
03 – Arps
58- Basses
12-Chords
05-FX
10 – Growls
42 – Leads
05 – Neuros
08 – Plucks
04 – Pads
03 – Subs