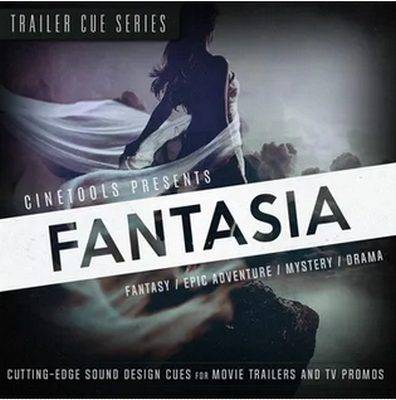 Fantasia 'by Cinetools is full of dazzling and immersive tunes from epic adventures and the spirit of a fantasy world mixed with trailer sound effects in modern hybrid style. If you are working on a legendary adventure project, scenes of heroism, or similar projects, this library is a good resource for enhancing the epic experience.
5 Cinematic Trailer Cues + 56 Mixes & Versions
Cue 1: Floating
Full Mix Length: 01:08
BPM & Key: 90 Gm
4 Mixes + 7 Versions
Cue 2: Dystopia
Full Mix Length: 01:34
BPM & Key: 100 Em
4 Mixes + 9 Versions
Cue 3: New Worlds
Full Mix Length: 01:18
BPM & Key: 120 Cm
4 Mixes + 9 Versions
Cue 4: Lost
Full Mix Length: 00:54
BPM & Key: 120 Dm
5 Mixes + 7 Versions
Cue 5: Emerald Throne
Full Mix Length: 01:16
BPM & Key: 120 Em
5 Mixes + 7 Versions
This pack features high quality trailer cues and immersive sound effects perfect for any fantasy and adventure project. From huge cinematic hits to drum rolls, bewitching melodies, shimmery and hypnotic underlines, angelic voices, fantastic fairytale atmospheres, dynamic strings, epic melodies and more. Fantasy is ideal for cinematic composition, film scores, short film scores, trailers, commercials, documentaries, commercials, world and background music.
In detail, you will receive five fantasy-based cinematic trailer signals, ready to provide the highest quality for today's cinematic needs. All tracks are keyed and tagged with tempos to make selecting the desired file even easier.
PLEASE NOTE: The basics and tracks in this series cannot be used to create tracks for library music companies. Please check the complete license agreement and make sure you fully understand the license terms before choosing to purchase.