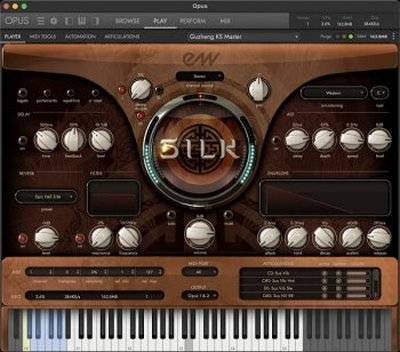 Easily immerse your listeners in the ancient world of your choice. Produced by award-winning sound designers Doug Rogers and Nick Phoenix, Silk is a large collection of world-class instruments from the countries of the Silk Road: China, India and Persia. Performed by master instrumentalists who have perfected their skills over the years, these bows, plucked and wind instruments were recorded using vintage Neumann microphones at the legendary EastWest Studios. Using SILK's wide range of articulations, live legato and full phrases, you can quickly create an ensemble that sounds like it was recorded in a time and place far from our own.
* Incredibly detailed Silk Road instruments from China, India and Persia, part of the world's most ambitious collection of instruments ever created
* Created by award-winning sound engineers Doug Rogers and Nick Phoenix.
* Instrument 25GB: 20GB multisamples and 5GB of authentic performances
* Recorded legato intervals for erhu, zhonghu, jinghu, electric cello, kemenche, duduk, 30-piece string section, diluba, bansuri
* Master musicians recorded at EastWest Studios, using vintage Neumann microphones, Neve consoles and Meitner converters
* Now included in OPUS along with separate downloads, customizable key switches, and dozens of MIDI instruments and mixer effects.
Installation

1. From the R2R folder, copy the "Previews", "ProductChunks", "products" folders to the "C: \ ProgramData \ East West" folder.
2. Copy the library to the HDD to any convenient location.
3. Launch our PLAY sampler, go to the Browser tab.
4. Right-click on an empty space in the left column of the Browser tab, and select "Add Another Product Library" in the pop-up window.
5. Specify the location of the library folder.