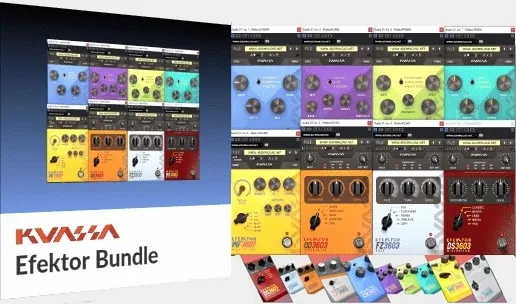 More than thirty types of the most popular pedals were investigated. We have selected the exceptional ones and narrowed them down to the three units included in this bundle: DS3603 Distortion, FZ3603 Fuzz and OD3603 Overdrive. To cover every tone needed by any guitarist (even synthetic sounds) the various parameters have been upgraded to 3 knobs plus a dry-wet button. This first EFEKTOR series features three legendary distortion, fuzz and overdrive pedals designed and modeled to shape the diverse sound of rock music across genres and eras. Each of the plugins contains 5 different hardware effects models to cover the different tonal characteristics that guitarists have been looking for. Effects set: Chorus, Flanger, Phaser, and Tremolo.
Following our Efektor Distortion Bundle, we have released the latest addition to the Efektor series, we have studied and reviewed over 20 models of legendary modulation effects from the 1950s to the last decade. Modulation effects are widely used by organs/synths, guitarists and studio engineers to add width, depth and movement to the original sound. In this bundle, we've collected the very best and packed them into four devices.
Kuassa has announced the release of the Efektor WF3607 Wah Filter, a new wah effect pedal with 6 types of authentic modulations from popular pedals with more parameters.
Package included
•Efektor Bass Cruncher v1.0.1 – Bass Tube Preamp
•Efektor Bass Driver v1.0.1 – Bass Preamp & DI
•Efektor Bass Smasher v1.0.1 – Bass Distortion
•Efektor CH3604 v1.1.1 – Chorus
•Efektor CP3603 v1.1.0 – Compressor
• Efektor DL3606 v1.1.1 – Delay
•Efektor DS3603 v1.1.0 – Distortion
•Efektor FL3606 v1.1.1 – Flanger
•Efektor FZ3603 v1.1.0 – Fuzz
•Efektor Gainia HB v1.0.0 – Dual channel hot preamp box
•Efektor Gainia TD v1. 0.0 – Thick and crunchy tube driven preamp
•Efektor Gainia XT v1.0.0 – Mid to high gain preamp with boost
•Efektor GQ3607 v1.1.1 – free Graphic Equalizer •
Efektor Harmonitron v1.0.2 – Pitch-Shifter & Harmonizer
•Efektor OD3603 v1. 1.0 – Overdrive
•Efektor PH3605 v1.1.1 – Phaser
•Efektor RV3604 v1.1.0 – Reverb
•Efektor TR3604 v1.1.1 – Tremolo •
Efektor WF3607 v1.2.1 – Wah Filter
•Efektor Whammo v1.0.3 – Pitch-Shifter & Bender
•Pillar Power Amp v1 .0.0 – Simple tube driven power amp simulator