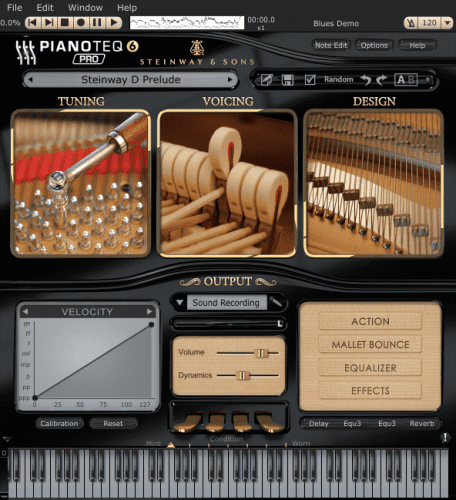 Pianoteq PRO – it is the ideal product for professional composers and recording studios and has proven itself to be an indispensable tool in many recording projects – from movie soundtracks and commercials to the latest hits.
Being physically modeled, Pianoteq PRO provides you with an extremely sophisticated sound shaping and instrument creation tool, allowing you to create your own unique sounds that will enrich your projects. The PRO version works with internal sampling rates up to 192 kHz. Using the powerful note editing feature, you can adjust the physical settings for specific ranges and even note by note. You can also turn any Pianoteq instrument into a multi-instrument using extended keyboard layouts up to 105 notes (this applies to instruments with an extended octave range).
Note editor The note
editor is designed so that you can work efficiently with it, saving you time and boosting your creativity. In addition, its spectrum profile editor allows you to customize each overtone for each note, providing you with thousands of sound combinations to help you find your unique instrument.

Fixed: Filter buttons for individual instruments in the preset manager are present only in the first copy of the plugin
Tool kits
Karsten collection
Steinway Model D
Steinway Model B
C. Bechstein Digital Grand
Ant. Petrof 275
Steingraeber E-272
Grotrian Concert Royal
Blüthner Model 1
U4 upright piano
K2 grand piano
YC5 rock piano
Harpsichord
Kremsegg 1: Historical pianos
Kremsegg 2: Historical pianos
Hohner Collection
Electric pianos
Steelpans instruments
Vibraphones
Celeste: Glockenspiel + Celesta + Toy Piano + Kalimba
Xylo : Marimba bass + Xylophone
Harp
Pianoteq PRO offers at least 30 customization options:
Volume
Detune
Dynamics
Unison Width
Unison Balance
Direct Sound Duration
Hammer Hardness Piano
Hammer Hardness Mezzo
Hammer Hardness Forte
Spectrum Profile
Hammer Noise
Strike Point
Pickup Symmetry
Pickup Distance
Impedance
Cutoff
Q Factor
String Length
Sympathetic Resonance
Pinch Harmonic Point
Duplex Scale Resonance
Damper Position
Damping Duration
Mute
Damper Noise
Key Release Noise
Blooming Energy
Blooming Inertia
Aftertouch Sensitivity
Hammer Tine Noise