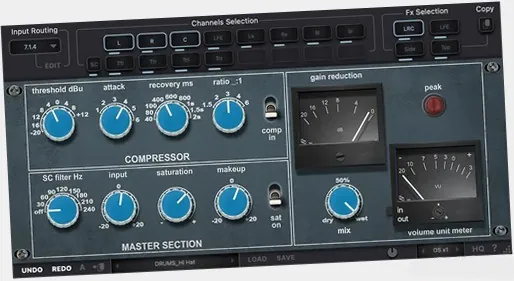 -Classic British compressor –
Red Rock Sound Comp 609 recreates the sound of a hardware compressor from the 70s. This dynamics processor has the recognizable musical punch heard on countless recordings around the world. Designed from the ground up for fast, efficient work on mid/side, stereo and objects, beds (fixed channels) immersive mixing environments.
Changelog History
Version 3.5.0 (May 2, 2023) :
– Solo+Oversampling bug fixed;
– Fixed a peak in the amplification of the sound when loading the plugin;
– Removed input channel routing profiles with paired channels;
– Implemented user-defined routing profiles for input channels (*.rrt);
– Implemented the names of sound processing modules (FX), defined by the user;
– Fixed the problem of inconsistency in the sound of resampling channels;
– Minor bug fixes and improvements.
Version 3.0.3 (March 3, 2023) :
– Fixed resampling bug;
– Sidechain bug fixed.
Version 3.0.2 (March 1, 2023) :
– Implemented support for multichannel;
– Fixed minor bugs and improvements.