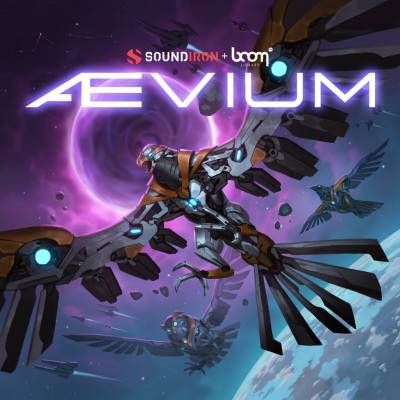 Aevium is a powerful and unique collection of ferocious lead synths and atmospheric pads, developed in collaboration with leading sound effects producer BOOM library. Our team only used sounds from their Birds Of Prey library of bird sound effects as source sounds.
We at Soundiron love to challenge ourselves as sound designers, looking for increasingly exotic acoustic sources to explore and turn into musically compelling and intuitive virtual instruments. Birds Of Prey is an extensive post-production sound effects library that captures the essence of owls, eagles, ravens, hawks, falcons, vultures and other raptors, corncrakes and large birds of prey. Ideal for creating natural wildlife soundscapes and character/creature sounds, this is an indispensable tool for sound design and post-production of video games, movies, television, videos, commercials and more. Visit BOOM Library for more information on Birds Of Prey.
To create Aevium, we selected a wide range of original sounds from Birds Of Prey and worked over several months to warp, stretch, modulate, glitch, overdrive and generally break into bits and bytes and re-synthesize them into an amazing library of sample-based virtual instruments. We handcrafted 11 GB of sound content containing over 1800 samples. The preset browser tree makes it easy to explore and create! Everything is conveniently organized into various useful and searchable musical, textural and aesthetic categories.
The user interface is built on our popular Oroboros ambient synthesis engine (Ambius Prime, Quadral), so the creative possibilities are truly endless. Whether you're looking for classic punchy lead patches, warm fluffy pads, dark drones, bubbling atmospheres, otherworldly textures, or just pure imagination, Aevium is your go-to!