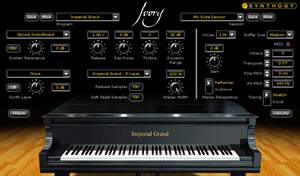 Ivory Grand Pianos is a high-quality virtual piano
developed by the American company Synthogy, only 40Gb in size.
Includes samples of the most expensive grand pianos :
Bosendorfer 290 Imperial Grand, German Steinway D Concert Grand, and Yamaha C7FT Studio Grand.
Key Features :
» More than 4000 samples.
» Has 10 stereo dynamic levels.
» Each piano is chromatically sampled for 88 notes.
» Each note has 10 dynamic levels. (97 notes for the Bosendorfer 290 grand piano)
» Each sample has a sustain depending on how fast the keys are struck and how
long they are pressed.
» Real Una Corda (Soft Pedal)
» Synthogy's core supports 32 bit samples and 64 bit signal processing.
» Sustain pedal resonance for realistic sound reproduction.
»High-quality built-in filters ambient, chorus and equalizer.
» Adjustable settings for Timbre, Stereo Base and Perspective.
» Responding to the speed of pressing a key, Mechanical noise of the keys.
"Key sensitivity (velocity).
» 5 different synth pads for producing modern sounds.
» Adjustable CPU load for optimal performance on various configurations.
» Settings and much more.
» PC support for RTAS and VST.
» Mac support for VST, RTAS and Audio Units.
» Packing cost $349
Minimum/recommended system requirements :
1.3 Ghz / 2.0 Ghz CPU Pentium 4 or equivalent CPU
1 GB / 2 GB RAM
11 GB / 41 GB free hard disk space
Windows XP (x32, x64) Service Pack 2,
Vista DVD ROM
Hard disk 7200 rpm
MAC libraries and to work with Windows, they need to be converted (converter included)
Libraries Converts only on x32 bit machine, and the program itself, of course, works on x32 and x64.