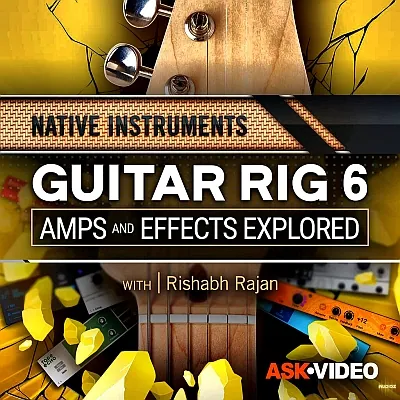 Guitar Rig 6 from Native Instruments with new amps, effects and a completely new interface will be the perfect companion for every guitarist. Learn how to create your perfect tone right here, right now!
The Guitar Rig 6 from NI is like a candy store for guitarists! From vintage guitar amps and cabinets to modern studio effects processors, this collection can emulate all the studio gear you need to create your own legendary guitar sound. Experienced coach and guitarist Rishab Rajan takes an in-depth look at NI's guitar kit in this 22-part course. Join us and learn how to get the most out of Guitar Rig's carefully modeled amps and effects processors.
The course begins with an overview of all the main elements of the user interface. By learning about preset management and how to use the global effects section, you'll delve deeper into Guitar Rig: amps, cabinets, and effects. Each type of effect is clearly explained and demonstrated: distortion, reverb and delay, modulation effects, stereo expander, filters, pitch effects… You will also learn how to use special processors that can bring your guitar tone into synthesis territory, such as LFOs, sequencers , reverse delays, DJ-style Traktor effects and more!
So plug in your guitar and get ready to rock…or jazz, pop, or whatever style you like, because Guitar Rig can do it all! Discover the power of Guitar Rig 6 with Rishab Rajan!
1.Introduction.ts
2.Interface Layout.ts 3.Toolbar.ts
4.Global
effects.ts
5.Amp Simulation.ts
6.Cabinet Simulation.ts
7.Control Room pro.ts
8.Distortion Effects.ts
9.Reverbs & Delay Effects.ts
10.Modulation Effects.ts
11.Stereo widening.ts
12.Rotator.ts
13.Pitch Effects.ts
14.Filter Effects.ts
15.Input Level & Envelope.ts
16.Analog & Step Sequencer.ts
17.LFO.ts
18.Containers.ts
19.Crossover.ts
20.Split Mix.ts
21.Grain Delay.ts
22.Traktor Effects.ts